To celebrate 10 years of working with the Naughton Foundation to support primary science, we are giving away 32 of our STEAM-Ed-in-a-Box programmes to be delivered for Science Week 2023!!!
To enter, simply tell us why your school deserves to win HERE!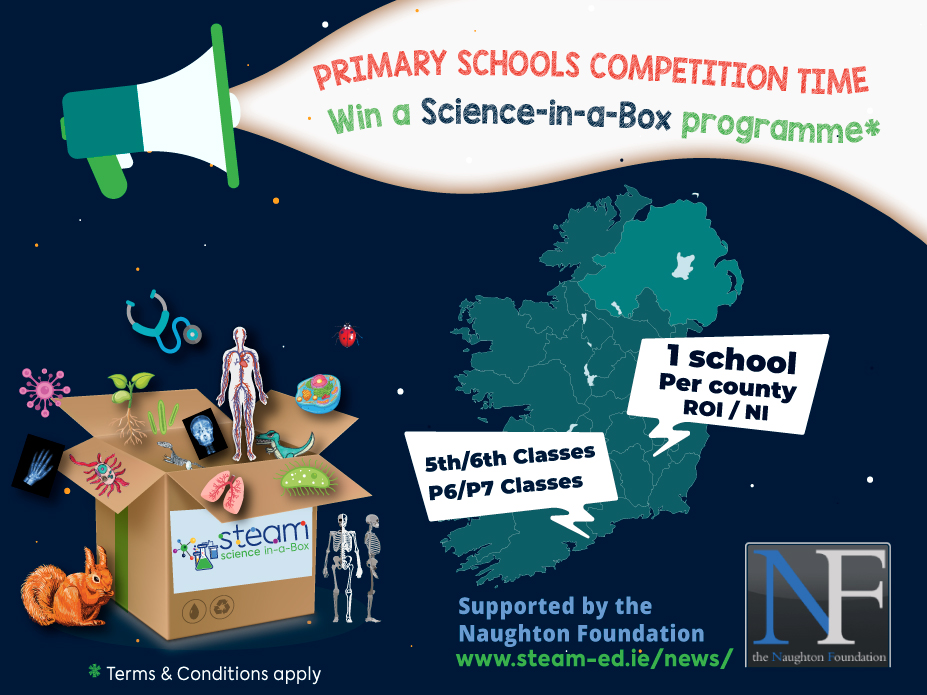 Our STEAM-in-a-Box programmes includes a series of five x 1-hour, curriculum-linked lessons, with link to video training, so the class teacher is supported to teach it themselves. All necessary physical, digital and print resources are provided in the box!
Our aim is to introduce human biology, life on earth, physics and chemistry, engineering and climate action to students in a fun, creative and interesting way.
The programmes are best suited to students in 5th/6th class/P6/P7.
Choice of programmes [depending on availability] as follows [more detailed descriptions in application form]:
 -STEAM Science: Origins: Intro to the universe, physics and chemistry
-STEAM Science: Intro to Human Biology
-STEAM Science: Building Blocks of Biology/Life on Earth
-STEAM Intro to Engineering
-STEAM Climate Action in a Box
The competition was a great success last year  – check out some of our work in short videos.
Good luck!
About the Naughton Foundation: https://www.thenaughtonfoundation.com/